To rekindle flames, celebrate an anniversary or cement a romance with a honeymoon, pack your bags and head for one of Turkey's many romantic locations. Whether strolling hand in hand by the sea, exploring isolated ruins or dining under the stars, our list of alluring and atmospheric places in Turkey fits any romantic occasion. Whether you want to ride horseback, drink champagne, indulge in breakfast in bed, be adventurous, enjoy relaxation on beautiful beaches, or watch stunning sunsets, Turkey is the best country to choose, especially for a honeymoon.
From pristine beachfront resorts to central Anatolian countryside villages to island-hopping, your choice of the best places is immense. We are so confident you will love it, and this once in a lifetime event will keep you coming back year after year. So, what are your top picks of where to go and what to do?
Breath-taking Kalkan
With its relaxed atmosphere and whitewashed houses spilling down the curved hill to the ancient harbour, exquisite Kalkan is one of those summer drug Mediterranean destinations. Climb into a hammock intending to get stuck into some holiday reading and wake up three hours later, staring idly out at the sailboats across the blue sea. Explore cobbled streets hand in hand, drink in the sea air and enjoy the contrast of the bright bougainvillaea beside the stark white villas and the blue of the sea. By night, dine in a famous rooftop restaurant, with stars spreading across the sky and reflecting in the calm Mediterranean waters lapping against the harbour. For privacy, renting private villas with infinity pools is popular in Kalkan. More about why Kalkan is the perfect getaway.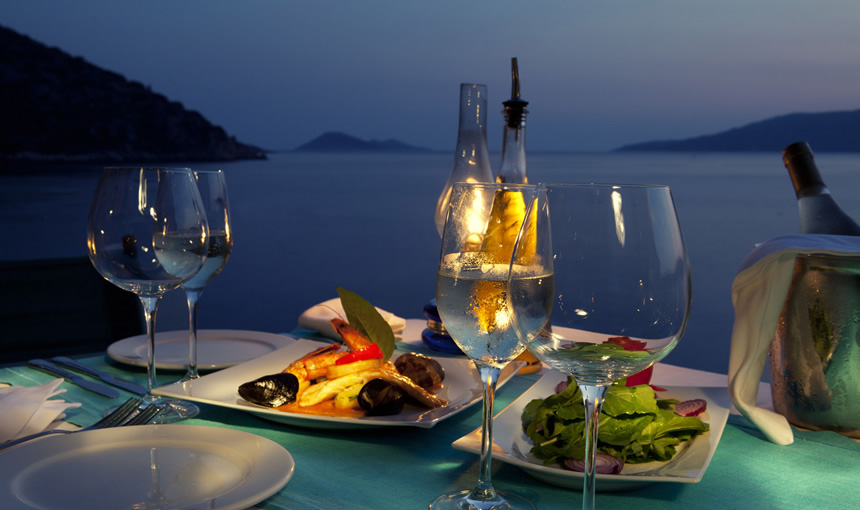 Stroll Around Kayakoy, Fethiye
What could be more intriguingly romantic than an abandoned village? The village - complete with a church, school and 350 stone cottages were abandoned by its Greek inhabitants in the 1923 population exchange and is now an open-air museum. Almost a century of exposure has stripped the houses down to bare shells, making the place look ancient. Although it is one of Fethiye's well-known spots, crowds rarely gather, so wander quietly around the town's remains and imagine the community's ghosts who once lived here. Before visiting Fethiye, also read Birds Without Wings by Louis de Bernieres, the fictionalised account of Kayakoy during World War I. It will add some intrigue to the romance of this haunting site.
Majestic Kaleici, Antalya
Kaleici, the small historic section of Antalya began as a Roman town, before being taken over by the Byzantines and finally Ottomans. Its winding lanes feature picturesque old houses looming over the narrow streets and its hands-down the best place to go for atmosphere and culture in Antalya. Enter, Kaleici surrounded in part by an ancient wall, by the most famous entrance that is the historic Hadrian's Gate. From here, explore the winding, cobbled streets, and dip in and out of boutique shops before heading to a cosy, tranquil restaurant and soaking up the atmosphere of this enchanting city enclave - More about Kaleici.
Stroll Around Kalekoy
For a chance to pull up the drawbridge and hide from the world, Kalekoy is ideal. Connected to the mainland only by a rough track, it is visited solely by boat trips that depart by sunset. The pretty village near the Kas Peninsula, has no roads, which means perfect peace. Enjoy charming waterside restaurants, Lycian tombs, a Byzantine castle, and the idyllic blue sea. There are a few hotels if the place grabs your attention and you want to stay the night.
Quaint Cappadocia
Sometimes, to light the spark of romance, we need an escape from the norm, and the central Cappadocia region provides that. With its surreal rock formations, esteemed wineries, and intriguing underground networks, Cappadocia's charm lies in its otherworldliness. After a balloon trip sky high above fairy-tale rock formations, explore underground churches and cities, where sizeable populations of people lived, completely hidden, for hundreds - if not thousands - of years. After a day exploring, tuck up for the night in a supremely romantic underground boutique hotel, complete with a hamma to wash off the day's dust.
Picture-Perfect Buyukada
Although it is a hop, skip and a jump - or a short ferry ride - from Istanbul, tiny Buyukada, often overlooked by the thousands who visit Turkey's largest city each year, is a stunning delight. This makes it the ideal romantic getaway. Cars are banned on this extraordinarily pretty island - instead, get around by bicycle, or even better, a horse-drawn carriage to maximise the romance. Explore the island's quiet roads, lined with poplar trees and beautiful old wooden villas, visit ancient churches and historic mansions before finding a boutique hotel for the night and dining deluxe—what a perfect way to spend time with the person you love.
Secluded Sovalye Island
Five minutes away from Fethiye Town by water taxi, Sovalye Island is an escape from the hustle and bustle and beach crowds. Free of cars and with a couple of hotels, it is a supremely peaceful place to reconnect and recharge. Snorkel in the clear sea and glimpse the ancient city walls beneath the waters, or walk through the pine and carob-covered trees and find the remains of the ruined castle in the island's centre. There are a few houses and only a couple of hotels on the island, so book a room overlooking the sea and distant islands and find out how peaceful and romantic a night on Sovalye can be. Sovalye is also unspoiled and a chance to experience authentic Turkey, but with a touch of luxury.
Bonus Romantic Thing to Do in Turkey
If budget isn't a problem, we recommend sailing the Turquoise coast on its blue cruises. Also called the Turkish riviera, hire a gulet boat or reserve a private cabin and spend your days lounging about to soak up the sun, exploring bays, coves and dropping anchor to explore many coastline towns, villages, and ancient ruins. If you feel adventurous, go snorkelling, jet-skiing, take the plunge and sign up for scuba-diving to discover the underwater world, or enjoy an adrenaline ride up high with the parasailing team. Stretching from the Aegean to the Mediterranean, the Turkish riviera can boast of the most popular honeymoon destinations in Turkey, and for tranquillity, it measures up. Spend night-times in rooftop restaurants or enjoy a private romantic dinner for two onboard cooked by a gourmet chef. Sailing in Turkey is about the most laid-back life together you will ever experience.
Top Tip: For romantic destinations with five-star luxury resorts, most people look to Istanbul, the Antalya region or Cappadocia, albeit many other places stand up to the podium. Inclusive resorts often specialise in romantic and honeymoon packages featuring perks like sparkling champagne, couples massage, candlelit dinner, hot tubs, jacuzzi, butler service, excursion booking system, concierge, the most amazing views, and spa treatments.
Also read:
Beautiful Places in Turkey: So, this is our list of ideal places for newlyweds, honeymooners or just those who want to indulge in each other's companies, but as mentioned before, many other destinations provide choice. The difference with these places is stunning landscape scenery, some of which is Mother Nature's best. From Pamukkale's sparkling white pools to waterfalls and green rolling plateaus in the northeast, all avid travellers should have these beautiful places on their bucket list.